Important Education about Online Price Gouging and Amazon Sellers
With the enormous response of panic and reactions related to the Corona Virus Pandemic here in the United States and globally, price gouging has become a serious issue. As an e-commerce seller and consultant/brand manager for other sellers, we are seeing large increases in sales on Amazon. There are reports of price gouging and some sellers are already being threatened by frustrated buyers about reporting them to Amazon.
What You May Not Understand About Amazon Pricing
Before you choose to report an Amazon or online seller for price gouging please keep this in mind. It may cost as much as 5-10x or more for a seller to fulfill an item themselves versus Amazon fulfilling it. We are 100% against price gouging and I'm consulting all of my clients to keep their pricing normal. At the same time, it's important for consumers to understand that something that Amazon can ship and fulfill for $5 may cost another seller $14 to ship.
You simply cannot compare a 3rd party seller's current selling price to "what Amazon was selling it for last week". Amazon often sells products 10-20% lower than our WHOLESALE COST. 3rd Party Marketplace Sellers often cannot compete with Amazon's pricing when they are buying truckloads of merchandise directly from manufacturers. When Amazon sells out and the only offers remaining are from 3rd party sellers, you can expect a price increase.
We don't want to see honest, legit sellers having their accounts suspended because frustrated buyers see that an in-demand item is was twice as high as it was last week. There are so many factors that go into pricing. Amazon is aggressively suspending accounts that are reported for price gouging – and in some cases (all cases) they suspend first, and ask questions later. Casually reporting a seller that you think is price gouging can be catastrophic to that seller's business and future. Think twice before reacting in anger or frustration.
Understanding the Fees an Amazon Seller Pays when Amazon is Shipping.
See this example of a small-oversize item sold on Amazon for $24.95.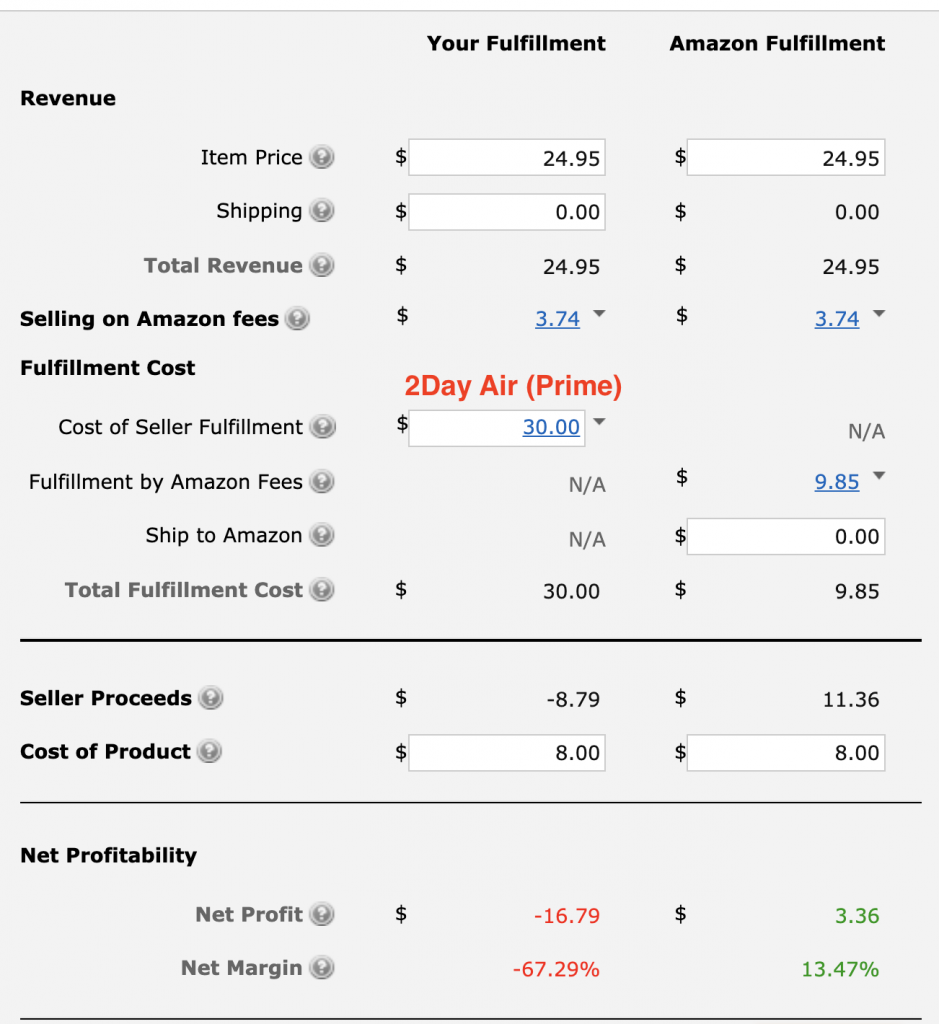 In this example, a Seller who is utilizing Amazon's fulfillment network (FBA – Fulfilled by Amazon) is paying Amazon $9.95 for their warehouse employees to pick, pack, and ship this to any customer in the country within 1-2 business days. This item is about 4 pounds.
As you can see, at a $24.95 selling price, after subtracting Amazon's sales commission, fulfillment fees, and the COGS (Costs of Goods Sold) of the item, the seller is left with $3.36 – only 13% of the original selling price.
Amazon is a master at logistics and has placed this inventory in hundreds of warehouses all across the country making it possible for them to ship to you at prices you would not believe. (and we've seen those rates, you truly wouldn't believe them!).
The Additional Expenses for a Seller to Ship
For the seller to fulfill the item themselves, they could lose as much as $16+ on this same order. Amazon's commission (15%) is unchanged but the fulfillment costs can be incredibly higher. In this case, the seller is shipping from Georgia and because the customer is in Washington state, the only way the seller can get it to the customer within the Amazon Prime 2-Day shipping window is to ship 2nd Day Air. The box is oversized, so even though it's only 5 pounds with packing materials, the dimensions of the box (24x14x4) give it a much higher dimensional weight. Now, this seller is paying for the box, the labor to pick and pack, and a 2nd day air fee that totals up to $30 dollars or more.
Sure, there will be instances when the seller can fulfill the item cheaper. The purpose of this example is to educate and show that for a 3rd party seller to even break even on this, they would have to nearly double the price. Yet, to the uneducated shopper this may look like price gouging.
Our Philosophy
We are not trying to protect rogue sellers. Don't even think that. But we are trying to educate people in the difference between Amazon selling a product, a 3rd party seller utilizing Amazon's warehouses and logistics, and then finally, a 3rd party seller who is shipping from their own warehouse. (which is becoming the case as sellers who had inventory at Amazon have sold out).
What percentage increase is price gouging? That's almost impossible to know. One can only hope that if higher pricing is legitimate, a seller has the opportunity to appeal their case and prove the math. In those instances where it's woefully obvious that a rogue seller is taking advantage of the nation – report them, and report them quickly.
I'm happy to answer questions you may have. Please share this and educate your friends. My intention is not to diminish the horrible practice of price gouging, but to bring much-needed perspective to shoppers everywhere.
Stay safe, stay healthy, and keep the peace.
Fred McKinnon, Founder
E-BusinessOnline | E-BusinessOnline.Com
E-Commerce Consulting & Brand Management
Before You Report that Amazon Seller for Price Gouging …