Podcast: Play in new window | Download
Subscribe: Apple Podcasts | Google Podcasts | Stitcher | TuneIn | RSS | More
Hello EBO'ers:
Welcome back to the E-BusinessOnline Podcast – this is Episode 27 where we're talking about Amazon Seller Fulfilled Prime and some of the pitfalls in purchasing liquidation lots for resale.
DON'T FORGET THE CONTEST TO WIN ONE HOUR OF FREE E-Commerce COACHING!
I want to kickstart our EBO Community so I'm hosting a fun little contest to offer a ONE HOUR FREE CONSULT with me for your e-Business.   This can be by phone, Skype, or if you are within travel distance of Southeast Georgia or Northeast Florida and want to come to St. Simons Island, GA and hookup, I'll buy you lunch and we'll talk shop for over an hour.    This is worth hundreds of dollars so you wanna win!   You can earn as many as three entries into the contest by doing any of the following:
Send me an email letting me know you're listening to the show.  (Put "Podcast" in the subject line!)  I'd like to hear your thoughts, what you'd like to see in the show, questions, constructive criticism, etc.   This gives you an entry.
Leave a written review on the iTunes Podcast.   (you will need to email or tag me with your review username when published)
Share this podcast on Facebook.   (You can share this post, or better yet, go to the page on iTunes and share it from there – see screenshot below).  When sharing you will need to TAG the E-BusinessOnline Facebook Page so that I know you shared it.   When you share the podcast to Facebook I won't know (and give you another entry) unless you tag the Facebook Page, so don't forget!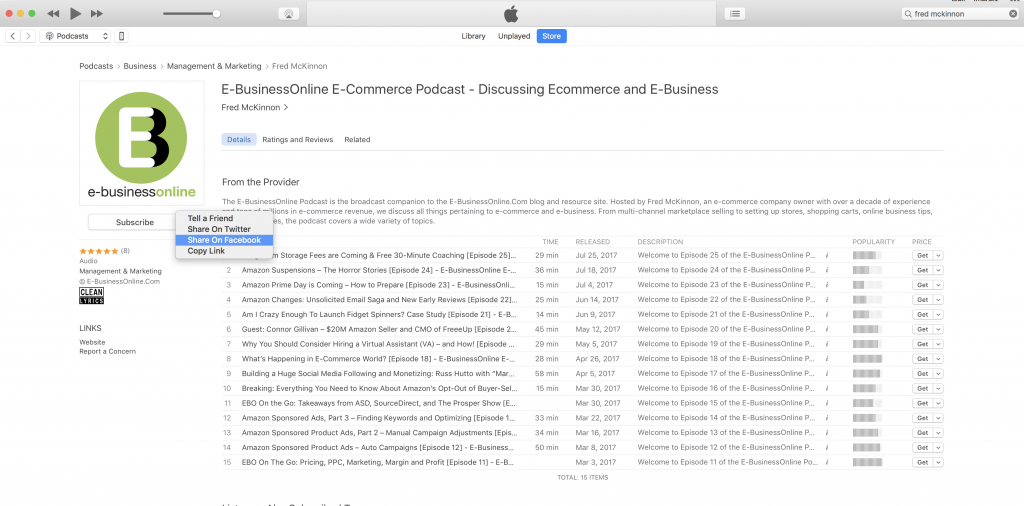 AMAZON SELLER-FULFILLED PRIME:
Archie Clement from our EBO Facebook Community asks a great question about Amazon's Seller-Fulfilled Prime program:
Would like to hear your thoughts on Amazon Seller Fulfilled Prime. We receive requests from Amazon from time to time to apply, but we don't currently have the infrastructure in place to ship orders the same day they are received, and in addition we only have a single warehouse in Texas, so it would require air shipping to many locations to achieve 2 day delivery. Seems to me it could only work with product inventoried in regional fulfillment centers or something.
Seller-Fulfilled Prime is a program that allows Sellers to ship their own items from their own warehouses and still get the "PRIME" badge on their listings, capturing those Amazon Prime shoppers.
The biggest disadvantage to the program is that you have to purchase your shipping from Amazon and the rates are not very discounted.
The advantage is that you don't have to commit to Prime Shipping for the entire country, but can define it by region, and only offer to those customers that you can reach in 2 business days via cheaper, ground shipping.
PITFALLS WHEN BUYING LIQUIDATION LOTS: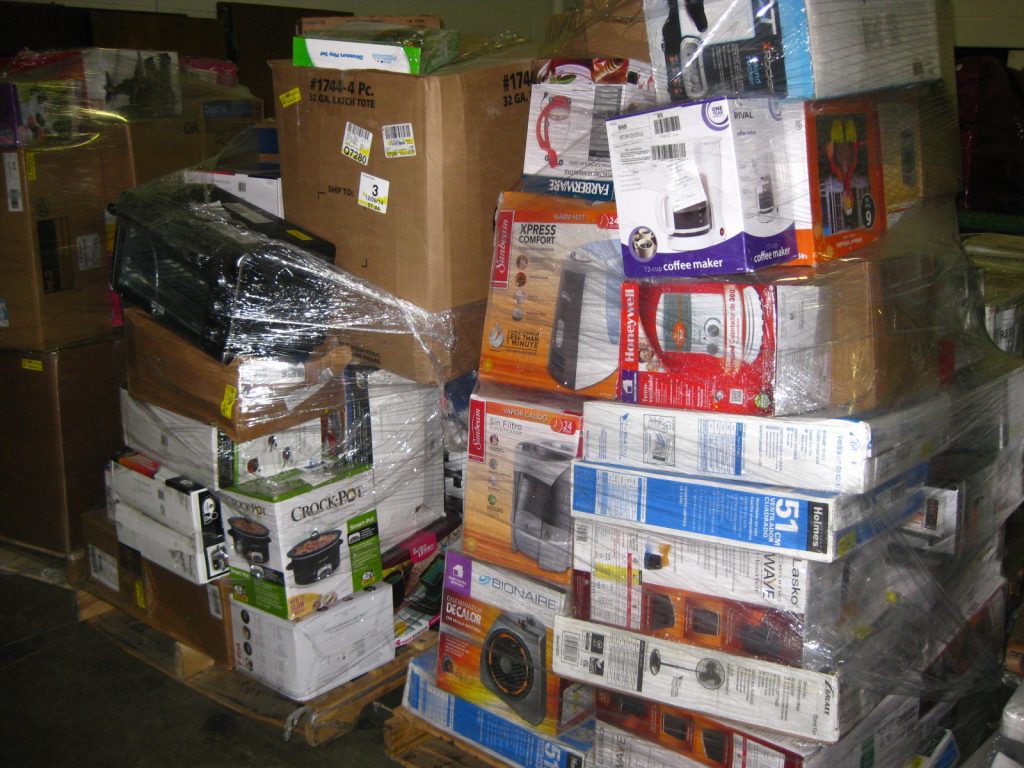 One of the hot trends that people are jumping on these days is purchasing inventory through liquidation sites.   The hype is that you can get amazing deals for pennies on the dollar and sell them in new, open-box, or used condition for huge profits.   Sometimes this is true and it can definitely be a great opportunity but as with anything, there are some downsides and pitfalls.   Fred discusses a few pitfalls he's experienced through is own mistakes and share them to save you a lot of time, money, and frustration.
avoid consumer electronic returns – they need to be thoroughly tested before being resold.  The same is with computer components.  If you don't have a quick easy way to test before reselling, stay away.   We had a large % of electronic returns come back to us due to defects that could not be caught without extensive testing.  In some cases, items are returned for no valid reason and they are a great buy; however, in most cases, the items were returned for a reason.
avoid opened/returned video games.   Customers install these on their consoles and register games, or steal upgrade codes making the returned game useless in many cases.
Pay attention to the category of the products and what conditions are allowed.  For example, we purchased a lot of returned Baby products and in most cases, Amazon would not allow us to list in "Used" condition in this category.
Pay attention to product reviews – in MANY cases, a product is being liquidated for a GOOD REASON.   For example, we got an amazing deal on a well-known fitness tracker but the customer reviews on Amazon for this particular model were TERRIBLE.   The items we purchased were brand new, retail box, not refurbished or used — yet, the overwhelming majority of them were returned by customers who left bad feedback and we lost a lot of money.   All the return reasons matched the very negative product reviews on Amazon.   Don't get swept away by the deal and the potential estimated sales.   Junk is junk, and your time is valuable.  Shipping to customers then paying for prepaid return labels and dealing with unhappy customers and negative feedback is a big hit to any potential profits you thought you would make.
If it's too good to be true, it usually is.   BEWARE of counterfeit and inauthentic goods.   Knock off items that appear to be OEM/Original are usually much lower quality and can also get you into suspension trouble with copyright/counterfeit claims.  If you buy generic items, be sure to sell them as such.  And if the listing seems to suggest that they are true "X" brand goods and the price is too good to be true, you are probably buying counterfeits.
Pay attention to the manifests.   Liquidation lots with dozens of individual items take a lot of time to process – especially if they are returned items.   They require someone to physically examine and access the condition of the item.   This can't be done easily by an overseas VA since they don't have the ability to touch and test the product.   Also, some liquidation sites pad the auction titles with the highest value item(s) and the overall lot may only have a very limited number of high value items and the rest of the items are junk.
As mentioned in the podcast, these are pitfalls and avoiding them can save you time and money.  However, there are definitely some great opportunities in this field as well.  It's a great way to diversify your income streams in your e-commerce business.
Some liquidation sites that I am familiar with:
Contest, Amazon's Seller Fulfilled Prime, and Pitfalls with Liquidation Lots [Episode 27]