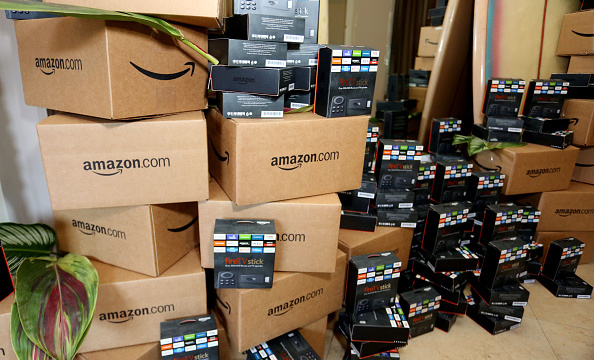 Amazon.com has been shaking up the scene lately with 3rd party "Marketplace Sellers".   Just last week they announced a massive plan to begin restricting well-known brands from being sold by Marketplace Sellers.   The ripples of this announcement are still sending shock waves throughout the community of Amazon sellers who practice what's known as "retail arbitrage" – buying items in retail stores at discount or liquidation pricing and reselling them for profit on Amazon.
This morning I woke up to yet another power play by Amazon.   Effective November 1, all Amazon Sellers will be forced into accepting automatically approved returns, along with prepaid labels, at their own expense.    This is a major shift in policy as Amazon has always allowed 3rd party Marketplace Sellers to have their own, separate return policies.   For example, with our company we do not provide prepaid return labels to customers unless the item was damaged, defective, or if the incorrect item was shipped.   Most sellers who are dropshipping simply to not have the profit margins to cover the cost of free returns.
Amazon Attempts a Positive Spin
Amazon does their best to make this sound like a good thing for Amazon Sellers but the reality is, it's going to be very difficult for most 3rd party sellers.    Every seller who has been on any marketplace very long knows that unfortunately, a very high percentage of dishonest customers routinely claim an item is "defective" to avoid paying for a return label or paying a restocking fee.   Not a day goes by where our company doesn't receive something claimed "defective" where the retail packaging and seal has never even been opened.    Amazon does allow a means to dispute a return but we all know that will simply lead to negative seller reviews.  It's basically a "no-win" for most Amazon Sellers.
For those whose Amazon business is primarily dropshipping, it complicates matters even more because you are now tasked with running a full-fledged returns warehouse.   Gone are the days of requesting a RA# (Return Authorization) from your distributor and having the customer ship the returned item straight back to your distributor or supplier for credit.   Now Sellers will be receiving returns daily (freight prepaid) and will have only 48 hours to vet, process and issue the refunds.   Then, the Sellers have to figure out what to do with the returned goods.
Below is a copy of the email sent to the Sellers:
Dear Seller,

Starting on November 1, 2016, US seller fulfilled returns that are within Amazon's returns policy will be automatically authorized, and Amazon will provide customers with prepaid return labels on your behalf.

We hope that this change benefits you, the seller, and your customers. With this update, customers will be able to return an item immediately, and without coordinating with you, reducing the time you dedicate to processing returns.

You will also have full visibility into the end-to-end returns process through tracking information located in the Return Details section of your Manage Returns page. And for the first time, you will have the ability to appeal return disputes directly to Amazon. We implemented these benefits so you can maintain visibility in the returns process, and to assist you in the case of an A-to-z claim.

We understand this may require you to make changes to your returns process, and that there may be products in your catalog that will need to be exempted from this requirement. Therefore, starting on October 1, you will be able to request an exemption for specific ASINs that meet certain requirements. Review the Prepaid returns for seller fulfilled orders help page below for details on how to request exemptions. Exempted returns, and returns that are out of policy, will continue to go through the existing returns process that you use today.

To learn more, visit the Prepaid returns for seller fulfilled orders help page: https://sellercentral.amazon.com/gp/help/202072200

For information on Amazon's returns policy visit: https://www.amazon.com/gp/help/customer/display.html?nodeId=15015721

Thank you for selling on Amazon.

Sincerely,

The Amazon Selling Team
Is there a silver lining?
One could argue that this is a good thing.  It will make the returns workflow much easier for customers and happier customers means repeat customers and more sales.   It will streamline the initial approval process of returns.   Also, based on Amazon's published restocking fee policy, you are permitted in some cases to charge up to a 50% restocking fee.  (see below)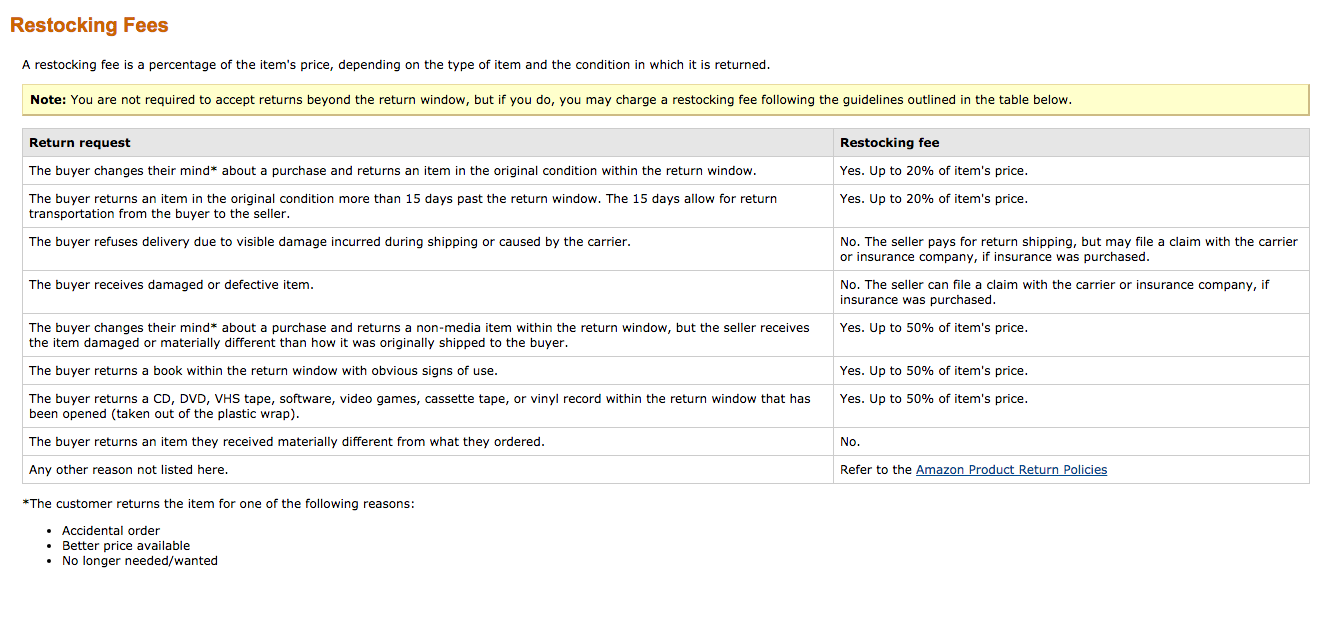 Nevertheless, hefty restocking fees or attempts to recoup the cost of the prepaid return labels will likely result in negative backlash from the customers including negative seller reviews and an exponential rise in A-Z Claims.
This news will certainly shake up the world of Amazon eCommerce.    Visit our Facebook Group for E-Commerce Sellers and discuss your thoughts.
Amazon Shakes up 3rd Party Sellers with Forced Prepaid Returns