Just in from Amazon.Com: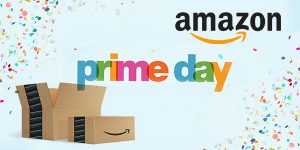 Prime Day is coming up! Last year, Prime Day, a one-day global shopping event exclusive to Prime customers, was a huge hit with customers, who enjoyed some of the best deals of the year. This was partly due to our amazing sellers, whose Prime-eligible products offered customers great deals, often driving sales for sellers. This year, Amazon will be supplying wide-range marketing, both on-site and off-site, for Prime Day that could drive customers and sales to your truly amazing deals. Prime Day will take place the second week of July ("Prime Day Week") and will run for 30 hours (6PM to midnight the day before Prime Day, and the 24 hours of Prime Day, PDT). We'll announce a definitive date as we get closer to the event.
The submission window for Lightning Deals will open in early to mid-May and will close on May 21, 2017, at midnight PDT. We want you to be prepared when the window opens so that you'll have enough time to submit your Lightning Deals within the allowed timeframe. We will not accept any submissions after May 21, at midnight. You will receive communication next week with more details about submitting your Lightning Deals.
Prime Day Lightning Deal Criteria
Lightning Deals are time-bound, promotional offers where a product is featured for a limited number of hours. For Prime Day Week, we are looking for Deals with:
Discounts of 20% or more (the discount is off of the lowest site price in the past 30 days, and the Deal price must also be the lowest price in the past 90 days);

Enough quantity to last the duration of the Lightning Deal, which will run for a maximum of 6 hours;

Products that have a 3.0 star rating or higher;

Images that match the

style guide

;

All Deals must be submitted through Seller Central, and we will not be taking any manual submissions.
Amazon will choose Lightning Deals to run on Prime Day that provide the best value to customers based on a combination of best discounted price and availability quantity. The best price and quantity for your Deal can be different from what is suggested on the Lightning Deals page.
Submitting a Lightning Deal for Prime Day Week does not guarantee that your Deal will run on Prime Day. Deals not selected will run on other days during Prime Day Week.
Fees
To take advantage of this huge shopping event, Deals that are selected to run during the 30 hours of Prime Day will be charged a $500 fee. Deals that run on the other days of Prime Day Week will be charged a $300 fee. You'll find out your fee after your Deal has been scheduled to run. Learn more about Lightning Deal fees.
For FBA sellers: Inbound inventory
FBA inventory for Prime Day Lightning Deals must be received at an Amazon Fulfillment Center by June 20, 2017.
We are looking forward to seeing your best Lightning Deals that offer the most delight to our customers on one of the biggest shopping days of the year!
For additional questions, you can learn more about Prime Day Lightning Deals.
Sincerely,
Selling on Amazon
Get Ready for Amazon Prime Day